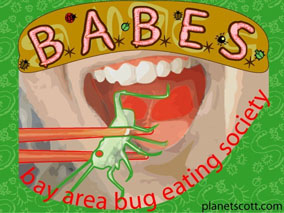 The Bay Area Bug Eating Society was formed on February 8, 1999. This club is dedicated to eating bugs* A great big welcome to all of the new BABES members who showed up at the FREE BABES BBBQ (the extra "B" stands for "BUG") this recent Halloween. Of course, it is never too late to sign up. Or, if you're BUG Curious, follow these links, and enjoy your stay. Eating insects is healthy and fun!
Bay Area Folks... join together in the ENJOYMENT and FUN of eating bugs* Once you start, you will take to HEART the W O N D E R and EXCITEMENT of a PURE & NATURAL PROTEIN PACK of CRUNCHITY GOODNESS. But, WATCH OUT! Before long, your friends, your relatives, YES, even your high school sweetheart will be clamoring about your footsteps to RELISH IN YOUR GLORY. That's because NO ONE CAN RESIST
the toe TAPPIN', hand CLAPPIN',
exoskeleton SNAPPIN' SATISFACTION
of Entomophogy. HEY! What are you waiting for? GET YER OWN BUG!